Thanks for purchasing a Tommee Tippee Double Electric Breast Pump!
As part of our Made for Me™ range, this electric breast pump has a soft, comfortable massaging horn designed to help you get more milk in less time. It's powered by a lightweight, portable power pack so that you can use it wherever you need to.
This page is here to help you get the most out of your breast pump, and to answer any questions you may have. Keep on reading for product support and troubleshooting advice.
Parts Guide
Together, these parts form your breast pump handset. You have two of these to form your double breast pump, and these parts can be washed…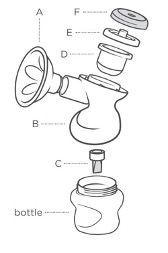 Horn – trumpet shaped part with a soft edge to sit comfortably against your breast and petals for massaging to stimulate more milk flow.
Body – duck-shaped part that you hold and connects the horn and cup to your bottle.
Duck-bill valve (peach) – small one-way valve that lets breast milk into your bottle, but doesn't let it back through as you move around.
Diaphragm – small, transparent cup-shaped part that keeps the "wet" side and the "dry" side of the breast pump separate. This makes it a closed pump system.
Diaphragm cap – seals to the diaphragm.
Lid (peach) – allows you to connect the air tube to the pump, and close the pump handset.
The following parts connect to your pump handsets, these parts can't be washed…
Air tubes – two plastic tubes with peach connectors at each end that attach your breast pump to the power unit
Power unit – small, portable motor that powers the massage and expression features of your breast pump.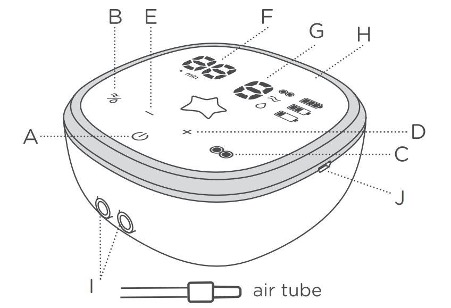 Power – Use to turn pump on and off, and pause during pumping.
Mode button – Switch between massage and expression modes.
Double/single pump switch – Between double and single pump modes.
Increase suction power
Decrease suction power
LED display – timer
LED display – shows mode level, there are 5 massage levels and 9 expression levels
LED display – shows battery charge level
Air tube connector – connect your air tubes to the power unit here
USB socket – connect this to a USB power source or adapter to recharge
Assembling your Double Electric Breast Pump
Each time you use your breast pump…
Check all parts of the pump and power unit for any damage.
Wash your hands with soap and water and dry thoroughly before handling your breast pump.
Make sure that all parts of the pump have been washed, cleaned, and sterilised, and are completely dry.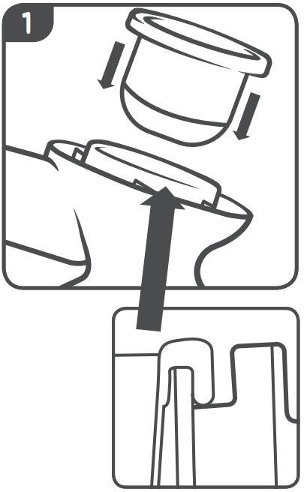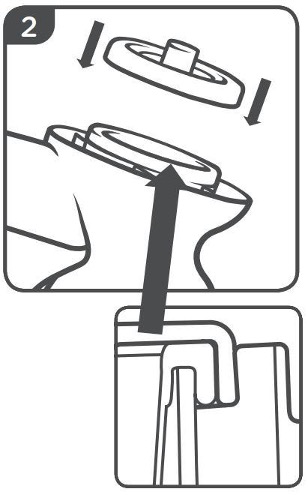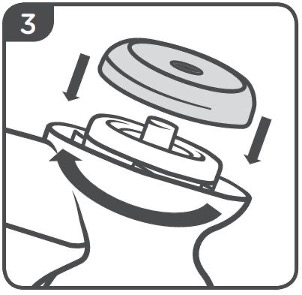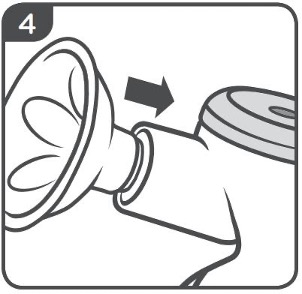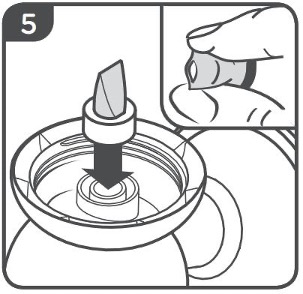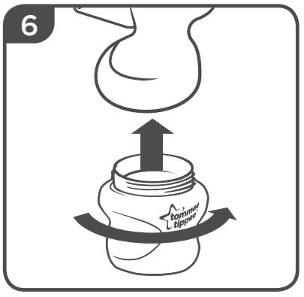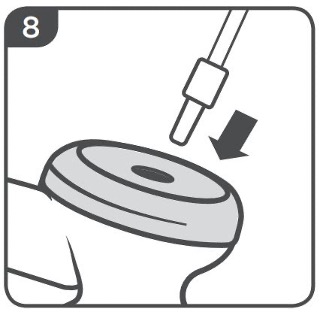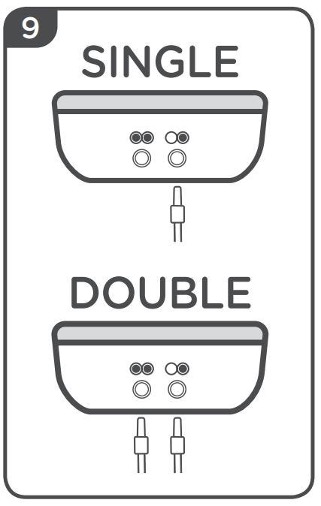 Place the clear diaphragm in the top of the body and push down gently to get a good seal.
Place the clear diaphragm cap over the diaphragm and push down gently to seal.
Place the peach lid over the top of the body and turn it clockwise until it clicks closed.
Push the horn onto the body until it's engaged and secure. Turn your pump handset upside down.
Insert the peach duck-bill valve. Gently squeeze the sides of the valve to make sure it's open.
Screw in a Tommee Tippee Closer to Nature or Advanced Anti-Colic bottle. This breast pump is designed to fit all Tommee Tippee Closer to Nature and Advanced Anti-Colic bottles and Pump & Go milk pouches with adaptor rings (excludes Tommee Tippee Closer to Nature glass bottles).
Repeat for the other breast pump handset.
Place the assembled pumps on a flat surface. Connect one end of each air tube to the peach lid of each pump body and the other to the power unit. The air tubes go into the two holes at the front of the unit.
Insert the other end of the air tubes into both sockets on the front of the power unit. If you want to use the pump in single mode only insert the air tube into the single socket marked with the icon shown below.

Charging your Double Electric Breast Pump
The power unit for your breast pump uses a battery similar to the one in your mobile phone. Charge it up so that you can power your breast pump anywhere.
You do not need to have your power unit plugged in to mains power to use your breast pump.
The power unit will come with some charge in it, but you should fully charge it before first use.
To charge the power unit…
Connect one end of the USB cable into your power unit and the other end into the supplied adapter.
The LED battery icon will flash to show that your power unit is charging. Charge until all 3 bars are full. Charging time may vary depending on voltage and equipment used, from 3 - 6 hours.
When it's fully charged all three of the LED lights will remain on.

Symbols guide