Thanks for purchasing a Tommee Tippee Steppeebag. This product support page is here to help you use your new Grobag safely, and to ensure that both you and your little one sleep soundly.
Our Sleepbags and Steppeebags are suitable for use from 6 to 36 months.
Steppeebag Features & Benefits
Safety reassurance
Our Sleepbags and Steppeebags conform to the European safety standard for children's sleepbags EN 16781:2018 and the Australia/New Zealand nightwear standard AS/NZS 1249:2014.
How do I wash my Grobag?
We recommend that you wash your Grobag before the first use. Always close the zip before washing, gentle machine wash at 40°C, and then reshape while damp or tumble dry on low heat.
You can use a warm iron but don't iron over the back neck label.
What is ALOEKIND™?
Our luxury Grobags are made using cosy, bamboo rich fabric and a signature ALOEKIND™ lining. ALOEKIND™ is a unique cotton blend that's infused with naturally soothing Aloe Vera and so it's extra kind to baby's sensitive skin.
Zip fastening
The zip starts near the baby's chin and finishes at their feet for improved comfort and reduced risk of skin irritation, as well as preventing baby from undoing the zip by themselves.
When fastening, it's important to make sure that the zip slider is fully engaged, right at the top of the zip before sliding to close.
The easy zip opening is also perfect for night-time nappy changes as you can unzip from the bottom, whilst keeping baby cosy and warm at the top.
SnugFit™ Intent
All our Grobags are shaped for a slimmer profile over the chest and waist, which enables full freedom of movement, without restriction or excess bulk. The bottoms of our Grobags are roomy, to allow your baby to adopt the natural, hip healthy "frog legged" sleeping position.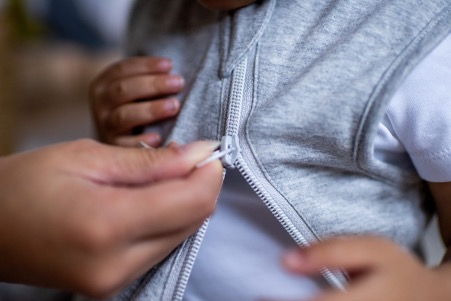 Why does my new Grobag have a red fire warning label?
We take our responsibilities in this area very seriously and from 2022 our Grobags are going global! We're still using the same premium fabrics but with extra precautions to ensure our Grobags meet all the regional safety regulations.
In Australia and New Zealand, all nightwear for children aged 6 months to 14 years must carry a fire warning label. These safety standards are mostly based on the risk of the garment being exposed to an open flame. Any garments which hang loosely and are made from a more flammable natural fabric (e.g., cotton) must carry the high fire danger label.
Sleepbag & Steppeebag Size Guide
Your child's head should not be able to pass through the neck hole when the Sleepbag or Steppeebag is fastened. If it can, the Grobag is too big for them. Remember to check the weight of your child and refer to the chart below.
Please note that these are recommendations only as all babies are different…
| | | |
| --- | --- | --- |
| Approximate child age | Minimum child weight | Child height |
| 6-18 months | 8.2kg / 18lbs | 68-86cm |
| 18-36 months | 11.3kg/25lbs | 86-98cm |